Computing a social mobility matrix using DAD
Use DAD and launch the application Decomposition => Transient matrix

Select the appropriate vectors.

In this example, we

use the panel data of Ben

in's

household surveys for the years of 1996 and 1999 (ELAM_96 & ELAM_99)

Select "Social mobility" as Matrix option

Suppose we are concerned with quintiles (0-0.2, 0.2-04, ... 0.8-1.0). For this, select equalised parti

tions

option with min=0, max=1.0 and the number of partitions equal to 5.

Click on the button compute.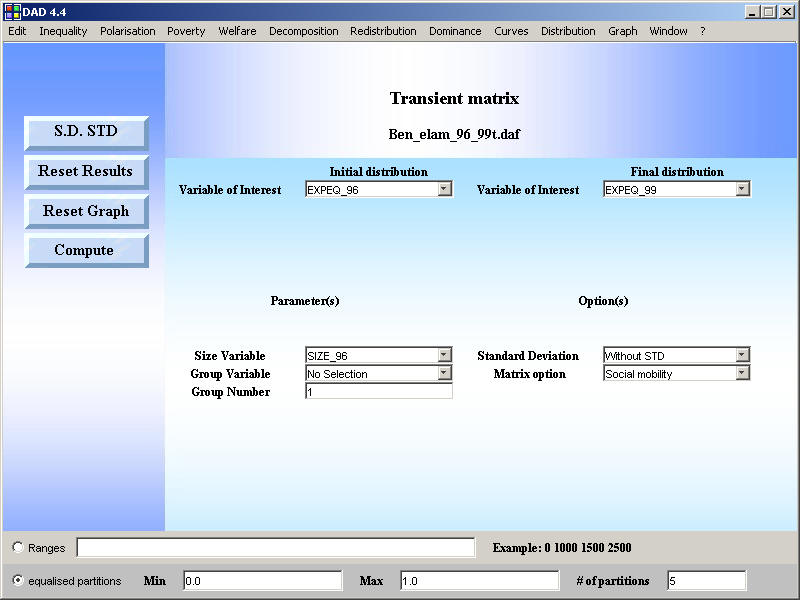 Transient matrix
| | |
| --- | --- |
| Session Date | Mon Nov 29 11:20:39 EST 2004 |
| Execution Time | 28.75 sec |
| FileName | Ben_elam_96_99t.daf |
| OBS | 836 |
| Sampling Weight | No Selection |
| Initial period | EXPEQ_96 |
| Final period | EXPEQ_99 |
| Size variable | SIZE_96 |
| Group variable | No Selection |
| Group Number | 1 |
---
Social mobility
---
| | |
| --- | --- |
| Initial period | Final period |
| | | | | | | |
| --- | --- | --- | --- | --- | --- | --- |
| | 0.0 - 0.2 | 0.2 - 0.4 | 0.4 - 0.6 | 0.6 - 0.8 | 0.8 - 1.0 | Total |
| 0.0 - 0.2 | 0,0295 | 0,0482 | 0,0375 | 0,0504 | 0,0338 | 0,1994 |
| 0.2 - 0.4 | 0,0338 | 0,0423 | 0,0520 | 0,0445 | 0,0284 | 0,2010 |
| 0.4 - 0.6 | 0,0445 | 0,0445 | 0,0445 | 0,0193 | 0,0461 | 0,1988 |
| 0.6 - 0.8 | 0,0413 | 0,0402 | 0,0332 | 0,0407 | 0,0461 | 0,2015 |
| 0.8 - 1.0 | 0,0509 | 0,0268 | 0,0295 | 0,0456 | 0,0445 | 0,1977 |
| Total | 0,1999 | 0,2020 | 0,1983 | 0,2004 | 0,1988 | 1,0000 |